On 16 June Brussels hosted a seminar on the Barents cooperation. Representatives of BPI Anna Kireeva and Amund Trellevik were also among speakers. The heads of the Russian and Norwegian Barents Press described the 20 years of successful collaboration in the field of media.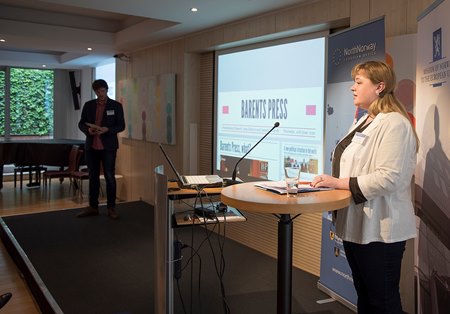 The cooperation of journalists of the Barents countries is a success story, told colleagues at the seminar on the Barents cooperation, which was held in Brussels last week.
"We keep learning from each other and discuss issues of journalism ethics. We all know our colleagues and their working conditions in each of the Barents region. Over a 20-year history we have established good communication, understanding and trust between the journalists, shared with the participants of the meeting with Russian and Norwegian journalists.
"Barents Press is an informal network of journalists working in the countries of the Barents region. Our main goal is to develop cooperation between journalists to work together. Each year there are numerous meetings and debates, seminars and conferences, press tours and meetings with the editorial boards for journalists of all countries of the Barents region".
Amund and Anna gave several specific examples of joint work. The most prominent of these has recently been associated with the Arab refugees to Europe. The period of summer-autumn 2015 was marked by the crisis of refugees from Syria and other Arab countries that crossed the Russian-Norwegian border on bicycles. For several months the Russian and Norwegian journalists conducted a joint investigation and made reports on both sides of the border.
There are lots and lots of similar examples of joint work in BPI activity.
"Only the changes in political environment has allowed us to see what serious results the collaboration of journalists of the Barents countries had reached. We see a huge difference in the approaches of journalists in Barents regions and capitals of the Barents countries in the coverage of many questions," said Anna.
"We need to continue to strengthen cooperation and the results achieved, especially in the context of the changed political situation", - said Amund.
Translated by T.Polkova